Gibson Guitars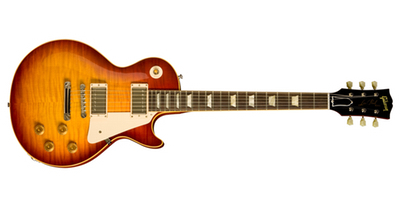 Gibson guitars include some of the most iconic instruments ever made. It's hard to think of Jimmy Page without a sunburst Gibson Les Paul hanging low around his neck or Angus Young with his trademark SG. Hard to believe that a company known for its close association with blues and rock (as well as jazz and other genres) got its start as a mandolin company, but when Orville Gibson founded his namesake company in 1894, that was exactly how the company started. By 1952, though, Gibson was already making the instrument that would make the company a household name.

The Les Paul

There aren't many instruments that are as iconic as the Gibson Les Paul, designed by the famed inventor and jazz guitarist himself as well as Gibson president Ted McCarty (with whom PRS later partnered and named its own popular solid body instrument after). Introduced in 1952, the Gibson Les Paul gained immediate fame for its sustain and playability. Instruments from this decade fetch sky-high prices, particularly the coveted 1959 Les Paul.
The SG

Believe it or not, Gibson discontinued the original Les Paul design for several years in the 1960s in favor of the double-cutaway designed instrument now known as the Gibson SG. Eventually, though, the original Les Paul design would reappear. 
The Explorer and Flying V

Although Gibson is primarily known for the Les Paul (and the SG to a lesser degree), in the late 1950s it produced two instruments that were well ahead of their time - the Gibson Explorer and Gibson Flying V. Even today, these guitars are described as "futuristic" and "modern." As such, they didn't receive much acclaim during their initial release in the late 1950s. However, in time both the Explorer and Flying V were adopted by a wide range of players, from The Edge to Lonnie Mack.

Current State of Gibson Guitars

In addition to their own line of Gibson-branded guitars, Gibson purchased one-time rival Epiphone who now makes imported and less-costly popular Gibson models such as the Les Paul and SG. Along with Fender, Gibson has inspired some of the most pervasive designs since the 1950s. Any dual humbucker set-neck guitar is a testimony to the impact Gibson has made on the music instrument industry. With Gibson's continued desire to innovate and explore, it looks like the best may be yet to come.
Add Your Comments Here!
I'd love for you to be a contributor to SoMuchGuitar.com!

Just fill out the information below to add to this page. I'll be in touch about your submission soon!
---
So Much Guitar

›

Guitar Brands

› Gibson Guitars