Fender Guitar Parts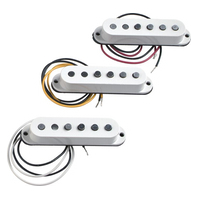 Fender guitar parts are some of the most popular replacement parts on the market, and for one main reason - the company's primary guitars - the Stratocaster and Telecaster - easily lend themselves to after-market replacement parts due to the nature of their construction. From pickups to bridges to tuning machines, Fender guitars - and their many clones - are ripe for customization and easy repair if needed. If you are in the market for Fender parts, the first question you need to consider is whether you want actual Fender parts or third party parts.
Upgrading MIM Fenders

Fender offers numerous genuine replacements that can be used either to repair parts if needed or to upgrade lower-quality parts with higher-quality items. For example, while the made-in-Mexico Standard series has greatly increased its quality standards in recent years, it's still common for players to upgrade various hardware items. 
Personally, I've owned quite a few MIM Fenders in the past, and if you upgrade a few items such as the pickups and tuning machines you can really improve the quality of these already solid instruments. Some guys go all out and upgrade the nut, wiring, strap locks, and even bridge saddles.

Upgrading American Fenders

It's even common to upgrade parts on the higher-end Made in America Fender instruments. I personally own a Fender American Standard Stratocaster that I upgraded with noiseless pickups, Schaller Straplocks, and Fender locking tuners. It plays and sounds as good as the more expensive Deluxe series but at a lesser price point. Fender also offers replacement parts such as pickguards that are guaranteed to fit and come in a variety of colors.

Boutique Fender Guitar Parts

Of course, Fender isn't the only source of replacement parts for Fender guitars. There are scores of companies that offer Fender-compatible parts. There are many choices for replacement pickups for example. Companies such as Dimarzio, Seymour Duncan, and Lollar all offer direct replacements for Fender-Style guitars. Other companies, such as Callaham Guitars, offer high-quality replacement bridges, blocks, and even tremolo arms that many people highly recommend. You can even get third-party necks (such as Warmoth) that are direct fits where you can specify such custom options are fretboard radius, fret material, and so forth.
So, if you need to find replacement parts for your Fender guitars, by all means check out Fender's own genuine parts, but don't be afraid to check out some third party gear as well.
Add Your Comments Here!
I'd love for you to be a contributor to SoMuchGuitar.com!

Just fill out the information below to add to this page. I'll be in touch about your submission soon!
---
So Much Guitar

›

Guitar Repair

› Fender Guitar Parts