Essential Rock Guitar Albums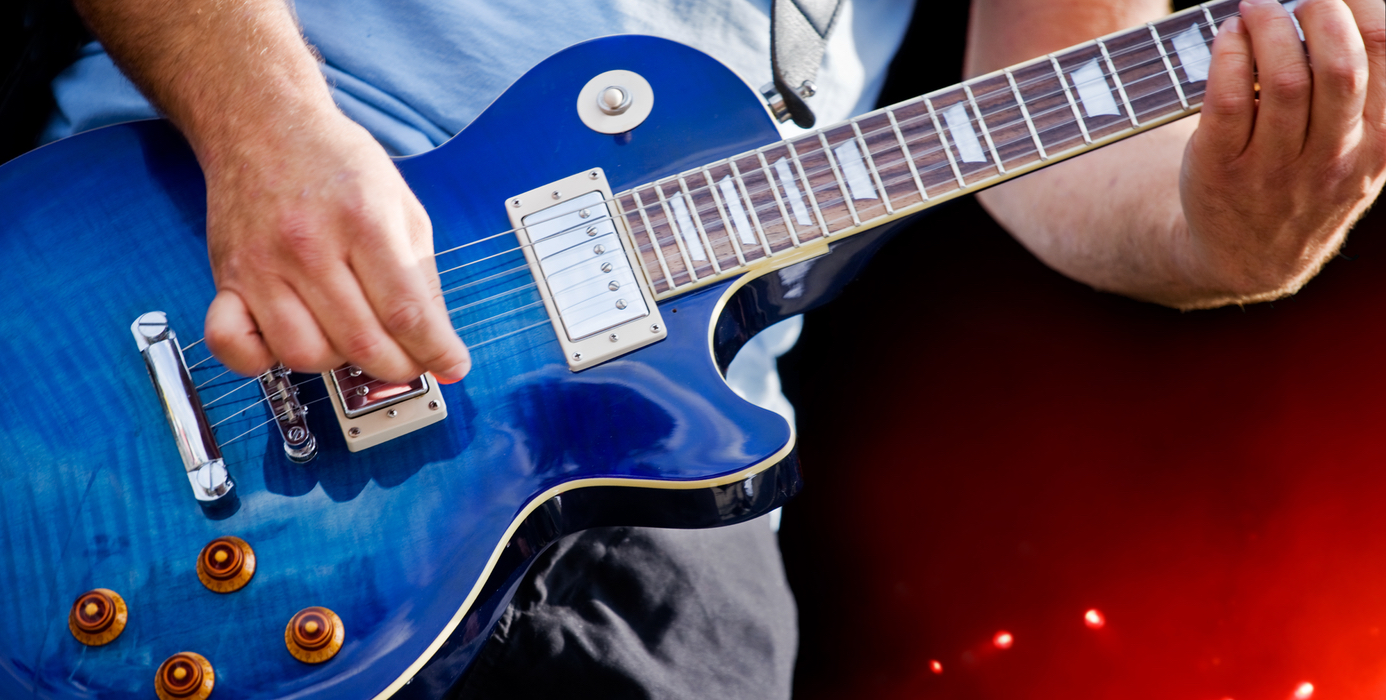 This list of essential rock guitar albums is as subjective as any of my other essential guitar album lists, but I'm pretty confident in my choices. Still, if you think I've left out an important album, fill out the contact sheet at the bottom of this page and let me know who you'd like added. Thanks!
To be sure, the album Highway to Hell put Australian rockers AC/DC on the map, but it was Back in Black that showed that they were a force to be reckoned with, and it's a must have on this list of essential rock guitar albums. If any band has a formula for their hits and for their success, it's AC/DC but man, what a formula. Tunes like "Back in Black," "You Shook Me All Night Long," and "Hells Bells" are rock guitar classics and remind us that the essence of rock guitar comes down to high powered blues-based riffs that would make Chuck Berry proud.
If there's a rock guitar intro that's better than Aerosmith's "Walk this Way," I've yet to hear it (granted, there are a lot of ties for first place). Though Joe Perry gets most of the press, fellow Aerosmith guitarist Brad Whitford is an essential if not often neglected part of one of the most significant guitar duos in music history. That's part of what makes Toys in the Attic one my essential rock guitar albums.
While none of the Beatles were known as virtuoso guitarists (even Eric Clapton played the lead in the famous "While My Guitar Gently Weeps"), the album Abbey Road showcases the groups incredible songwriting skills and how they incorporated layers of guitar tracks to produce tunes that inspired countless musicians. Album guitar highlights include "I Want You (She's So Heavy)," "Something," and "Here Comes the Sun" (an acoustic guitar standard). Also, check out the lead guitar work on "Medley," which features solos by Harrison, Lennon, and McCartney. Any Beatles album qualifies as a worthy buy, but this one especially belongs on this list of essential rock guitar albums.
If any band can be said to have "founded" hard rock or heavy metal, it's the boys from Black Sabbath. Guitarist Tony Iommi is a veritable riff machine and the group's second album Paranoid, with tunes like "War Pigs," "Paranoid," and "Iron Man" cemented their place as masters of this power-chord infused genre and a must-have on this list of essential rock guitar albums.
While Tom Scholz won't go down in the annals of rock guitar history as one of the most proficient players, he'll certainly go down as one of the most inspiring tonesmiths. This was the man after all who created the Scholz Rockman. Personally, I don't think there's a bad tune on the album and with songs like "More Than a Feeling," "Peace of Mind," "Rock and Roll Band," and "Smoking," it's easy to see I recommend this incredible album as essential rock guitar listening. The hooks and riffs are off the charts and Scholz's tone will always rock, man.
If any guitarist can be considered the "father" of rock and roll guitar, it's the great Chuck Berry. Everyone from the Beatles to Ted Nugent to AC/DC has been influenced by his masterful rhythm guitar work as well as his definitive pentatonic lead guitar licks. This collection is one of my essential rock guitar albums since it contains some of Berry's finest singles, including the semi-autobiographical "Johnny B. Goode."
 Hendrix. Clapton. The names pretty much define rock guitar. And along with Hendrix, Clapton helped define the sound of the so-called "power trio" in the late 60s - guitar, bass, and drums. And while Cream's life was short lived (1966 - 1969 with four albums), they made an indelible impact upon the world of music, with Disraeli Gears easily being the band's best efforts. With tunes like "Sunshine of Your Life" and "Strange Brew," many budding rock guitarists have worn out the needle (literally or figuratively) coping Clapton's blues-inspired licks, which is why it's included on this list of essential rock guitar albums.
If there's one tune I could ban from Guitar Center forever, would be "Smoke on the Water." Not because it's a bad tune. It's one of the coolest, most iconic rock tunes ever. It would be because 99% of people who play it, play it wrong (FYI, Ritchie Blackmore used power chords, but they were fourths, not fifths). But to hear the master play it is a different thing altogether. Personally, I think the best tune is "Highway Star" and the guitar solo is just one of the rock guitar solos ever, which helps make Machine Head one of my essential rock guitar albums.
Mark Knopfler's Chet Atkins-inspired riffage is nowhere better seen on the group's eponymous album with the tune "Sultans of Swing." Knopfler's tone and fingerpicking mastery goes to show that rock guitar doesn't necessarily involve a Marshall stack turned up to "11."
One of the most defining albums of the 1970s (and not just from a guitarist's perspective) was the Eagles' 1976 release "Hotel California." In addition to the title track (itself an iconic representation of what makes a "perfect" song to many people, myself included), the album boasts the incredible guitar work of Joe Walsh, Don Felder, and Glenn Frey. The title track itself contains every element of a textbook rock tune - the beautiful, haunting intro acoustic guitar riff, captivating lyrics, and masterful guitar solos culminating in a beautiful harmony solo outro. It just doesn't get any better than Hotel California, one of the essential rock guitar albums of the 1970s.
The Austin, TX guitar Eric Johnson is widely celebrated for his "100 lb" violin tone and equally well known for his perfectionist recording and playing technique and no album better captures the essence of Johnson's masterful guitar playing than the 1990 release Ah Via Musicom, featuring the Grammy-award winning tune "Cliffs of Dover," but there's not a bad track on the album, with tunes like "Trademark" and "Righteous" deserving equal airtime to the often-overplayed "Cliffs."
Though he looks like a homeless person living under a bridge, Slash of Guns N' Roses is one of the finest rock guitarists to emerge from the big hair era of the 1980s. His tone is generally pretty simple - Les Paul, Marshall, Dunlop Wah pedal - but though he looks like a derelict, Saul Hudson knows his way around the fretboard. "Sweet Child o' Mine" has every component of a great rock tune - killer intro, great lyrics, and a structure that builds to a now-revered guitar solo. There's nothing impossible to play here, but Slash's technique, style, and tone establish this album as one of our essential rock guitar albums.
Along with Eric Clapton, Jimi Hendrix is easily one of the most influential rock guitarists in the history of the genre. Often imitated but never equalled, Hendrix (again, along with Clapton) helped define the "power trio" and showed that the electric guitar is capable of producing simply other-worldly sounds. Armed with a Fender Stratocaster, Marshall stack, and a handful of effects (Wah, Fuzz, Univibe), Hendrix set the world on fire (sometimes literally), and there are so many good tracks on Are You Experienced, including "The Wind Cries Mary" and the iconic "Purple Haze."
Satriani is a rare beat in the instrumental guitar world - he has solid songwriting skills coupled with insane guitar chops. The result? Tunes like "Surfing with the Alien," "Always with Me, Always with You" and many other guitar instrumentals that are actually compositions rather than mere opportunities to show off his technical ability. Given its influence as a rock guitar instrumental album that has achieved great commercial success, Surfing with the Alien is a must have on this list of essential rock guitar albums.
If the Eagles represent the pinnacle of country-inspired rock in the 1970s, then Led Zeppelin easily embodies the new world of hard rock that began in this era. Each of Led Zeppelin's previous albums was in itself a rock masterpiece, but let's be honest - this album has "Stairway to Heaven," yet another picture perfect example of the ideal rock tune. And sure, it's overplayed by guitarists who almost never know they entire tune, but Wayne's World jokes aside, it's one of the best rock tunes in history. The album also contains such rock guitar classics as "Black Dog" and "Rock and Roll." Buy all of Led Zeppelin's albums (yes, even "Coda") but buy this one first. It deserves its place on my list of essential rock guitar albums for a reason.
Ozzy has long been known for recruiting top flight lead guitarists - Jake E. Lee, Zakk Wylde, but the gold standard will always be Randy Rhoads, perhaps in part due to his tragic and untimely death, but more likely it's simply that Rhoads was Ozzy's guitarist for Blizzard of Ozz and made significant contributions to tunes like "Crazy Train," "Suicide Solution," "Mr. Crowley," and the solo acoustic piece "Dee." 
Few guitarists (or any musician, for that matter) have the absolute musicality as does Pink Floyd guitarist Dave Gilmore. His vibrato, note choice, and tone are impeccable, and no Pink Floyd demonstrates his talents better than The Wall. The solos from "Comfortably Numb" and "Another Brick in the Wall" are enough to cement Gilmour as one of the greatest guitarists in rock history.
Even if he didn't play a guitar that was built from a motorcycle and old fireplace, Brian May would still be one of the most influential rock guitarists in history. I cheated again by picking two albums. Sure, it's the album A Night at the Opera that contains the Queen masterpiece "Bohemian Rhapsody," which was a studio tour de force that contains incredible guitar work from May, but it's really Sheer Heart Attack and The Game that show May's work at its best. Personally, I think "Crazy Little Thing Called Love" shows that May is, at his core, a solid rock guitarist who knows how to groove.
I cheated with my selection for the Rolling Stones as well, picking a "Greatest Hits" compilation. I couldn't help it though. The two Stones tuns that I think are essential listening are "Jumpin' Jack Flash" and my personal favorite, "Honky Tonk Woman," which was released as a single only and not included on an album until this Greatest Hits release. The words "guitar solo" and Rolling Stones don't exactly go together, but it's impossible to dismiss Keith Richards as one of rock guitar's greatest riff machines, and this collection captures that distinction perfectly. With the number of excellent tunes on the album, I think Through the Past, Darkly belongs on this list of essential rock guitar albums.
The onetime student of Joe Satriani, Steve Vai, established himself as a serious guitar powerhouse in the 1970s when he was part of Frank Zappa's band as resident "stunt guitarist" and transcriptionist (Vai's transcribing and sight-reading skills are the stuff of legend). While he perhaps doesn't have his former teacher's songwriting gifts (few do) the album Passion and Warfare contains some amazing compositions (check out "For the Love of God" especially) as well as Vai's virtuosic guitar playing.
Though the Edge of U2 isn't known as a great technical master of the guitar, it's safe to say that he showed an entire generation of guitarists that tone can trump technique if you know what you're doing. Is the Edge a master guitarist? No, but he is a master musician, and his musicality is seen no where better than on The Joshua Tree. Tunes like "With or Without You," "Where the Streets Have No Name," and "I Still Haven't Found What I'm Looking For" demonstrate the Edge's mastery of sparse layers and effects such as echo and delay. He won't win any guitar competitions any time soon, but that perhaps just goes to show how limited "competitions" are when it comes to the guitar and music in general.
Few albums have been as genre defining as the first Van Halen album. Eddie Van Halen's guitar work seemingly came from outer space. To put it simply - no one had ever made a guitar sound like that before. From the insane whammy bar work to the wild harmonic squeals to - of course - his defining two-handed technique, Eddie Van Halen quite simply saved and redefined rock guitar. 
I found it next to impossible to pick a single Who album, so I cheated (it's my web site - I can do what I want). I personally think that they best single Who tune that demonstrates Pete Townsend's masterful songwriting as well as his insanely great rhythm guitar chops is "Pinball Wizard" from the rock opera concept album Tommy, but I don't think that's the best Who album, so I was forced to add Who's Next to the mix.
If the Edge is a master tunesmith and mediocre technician, Swedish shred king Yngwie Malmsteen is his exact opposite - seriously, name one song by Yngwie Malmsteen that you actually listen to for enjoyment. Right. But with his first studio album release, the less-than-humble Pagani-inspired Malmsteen essentially created an entire genre of music - neo-classical shred guitar. He has been often (make that way, way too often) imitated, but he's definitely the original, as tunes like "Black Star" and "Far Beyond the Sun" demonstrate, and that makes Rising Force one of my essential rock guitar albums.
There's no better representative of Texas blues-based rock than the trio ZZ Top. Depending upon the album, the band is known for both their raw, driving sound as well as the fusion of technology and old school rock and roll. While Eliminator is my personal favorite album (I'm a child of the 80s, after all), it's definitely Tres Hombres that represents the best of the raw ZZ Top sounds, especially the tune "La Grange" where Billy Gibbons coaxes harmonic squeals from a 1955 Stratocaster feeding a Marshall 100 Super Lead Head. The tune "Jesus Just Left Chicago" is another track worth your time.

Essential Rock Guitar Albums - What are Your Recommendations?
If you have some essential rock guitar albums that you'd like me to consider adding to the site, let me know using the contact form below!
Add Your Comments Here!
I'd love for you to be a contributor to SoMuchGuitar.com!

Just fill out the information below to add to this page. I'll be in touch about your submission soon!
---
So Much Guitar

›

Essential Listening

› Essential Rock Guitar Albums