Essential Jazz Guitar Albums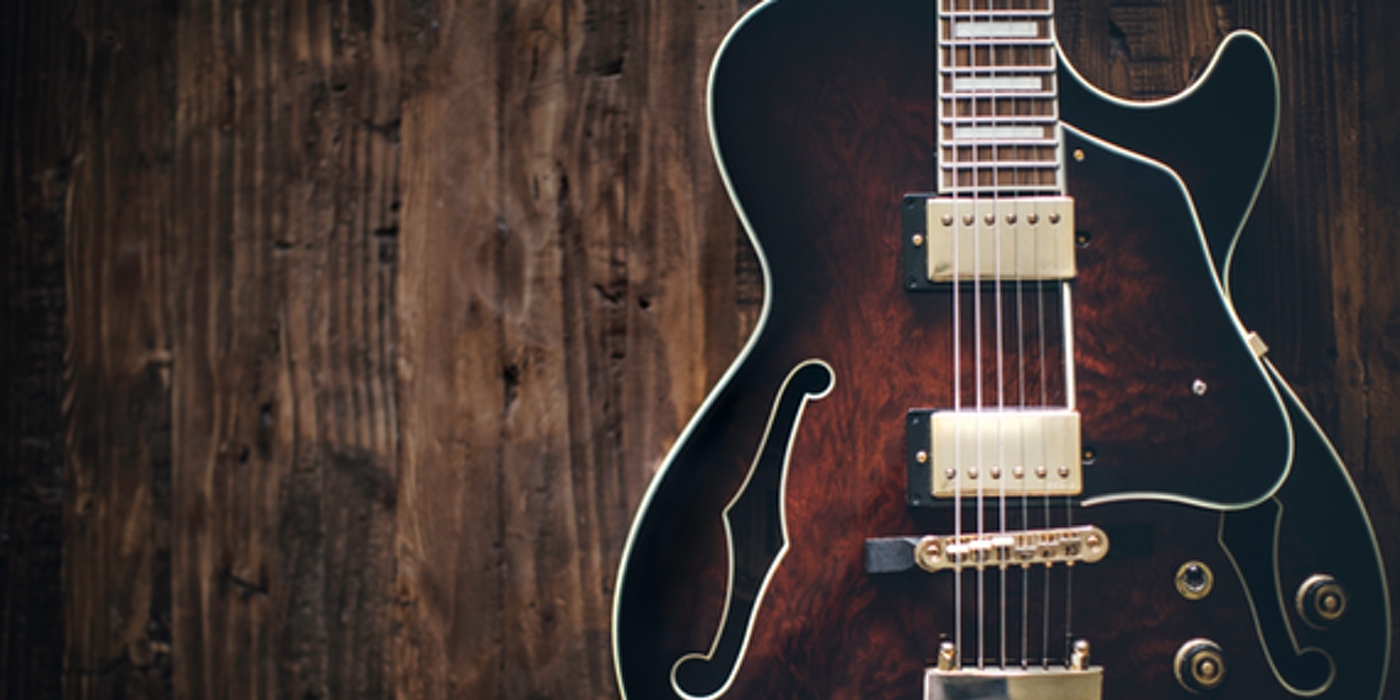 My list of essential jazz guitar albums is pretty massive. As a jazz guitar enthusiast (these days, it's my favorite style) it was hard for me to make a "short list," so there are a number of my favorite essential jazz guitar albums on this list. If you'd like to add to the list, let me know (there's a contact form at the bottom of the page). If you think I should eliminate an album from this list, that's fine too. Enjoy!
You can purchase the albums listed below using my Amazon.com affiliate links (which help support this site). Thanks!
Al Di Meola is celebrated as much for his incredible technique as he is for his contributions to jazz guitar (if not more so, truth be told). He has had a respectable career as both a solo artist and contributor, playing with everyone from Chick Corea to John McLaughlin and Paco de Lucia. If there's one album that put Di Meola on the map as a "household name," though, it's Elegant Gypsy. The tune "Race with the Devil on Spanish Highway" is still an audience favorite.
The late fusion/rock guitarist Allan Holdsworth raised the bar to almost unreachable levels with respect to his technical facility, harmonic mastery, and breadth of fretboard knowledge. In fact, "jazz" just doesn't seem to be a big enough word to describe the breadth of accomplishment that Allan Holdsworth brought to the instrument. Picking a single Holdsworth album is difficult for me, so I didn't pick just one. Check out the 1982 release IOU and the 1985 release Metal Fatigue for starters. 
Barney Kessel is widely considered one of the finest guitarists to emerge from the post Charlie Christian era. While a master bebop player, Kessel also played on a wide range of pop and early rock recordings as part of the famous "Wrecking Crew" of studio musicians. For recommended Barney Kessel recordings, you really can't go wrong with any of them, though Let's Cook is one of my personal favorites. For the money though I'd also recommend you pick up the compilations The First Four Albums and 7 Classic Albums. Any of these Kessel albums could make it onto a list of essential jazz guitar albums.
Calling Bill Frisell a jazz guitarist is sort of like calling Danny Gatton a country guitarist. It's technically true, but he transcends easy classification. Frisell established himself early on as a studio player and went on to record over 30 albums to date. It's tough to pick a single Frisell album and many of them could arguably be essential jazz guitar albums. So I'm just listing a couple of my favorites: East/West and the collaborative album Bill Frisell, Ron Carter, Paul Motian. 
A genuine child prodigy, Bireli Lagrene began his career as a gypsy guitarist in the style of Django Reinhardt, a move encouraged by his father who was also a guitarist. His playing style evolved in time, and he has since shared the stage with such jazz luminaries as Jaco Pastorius, Larry Coryell, and Stanley Jordan. I recommend his album Standards which showcases both his evolution as a musician as well as his incredible command of the instrument in playing numerous (you guessed it) jazz standards.
If anyone can be said to be the father of jazz guitar, it's the great swing guitarist Charlie Christian. In addition to helping redefine the role of the guitar in the swing era with Benny Goodman, Christian was also one of the fathers of bebop, which dominated the jazz world after Christian's untimely death at the age of 25. While heralded for his contributions to jazz, Christian was also influential for blues and rock musicians, even being eventually inducted into the Rock and Roll Hall of Fame. I recommend the 16 track album Genius of the Electric Guitar. Given Christian's influence on the instrument, this is easily one of most highly recommended essential jazz guitar albums.
Never mind the fact that Django Reinhardt demonstrated incalculable fortitude and tenacity by refusing to quit playing the guitar even after losing the use of two of his four fretting fingers due to a tragic fire. He, along with Charlie Christian, demonstrated the capacity of the guitar as a solo instrument in a jazz context. A pioneer of the gypsy jazz genre, Reinhardt's contributions are evident in the recommended CD The Essential Django Reinhardt, which contains several of his significant compositions, including the now standard "Nuages." As one of the most influential jazz guitarists of all time, Reinhardt's work easily belongs on this list of essential jazz guitar albums.
Though he sometimes eschews the title of "jazz guitarist," Klugh is beyond dispute one of the finest jazz guitarists in the world today. He stands apart from many on this list due to his preference of a nylon string acoustic as his instrument of choice, and his style hints more of Chet Atkins than Wes Montgomery. An eclectic player who can engage blues and classical as well as traditional jazz, Klugh is easily one of the finest acoustic players around. Check out Klugh's eponymous debut album Earl Klugh for smooth jazz at its finest.
Canadian born Ed Bickert may not be as common a name to many as several on this list, but that doesn't mean that he hasn't produced some essential jazz guitar albums. Raised in a musical family, Bickert has had a distinguished career as a leader, sideman, and studio guitarist. Bickert's strengths are generally considered his vast harmonic knowledge and talents as an accompanist, though his solo work is powerful as well. Check out the Paul Desmond album Paul Desmond Quartet Live to hear Bickert's incredible ensemble work. I also like his album with Lorne Lofsky, This is New. 
Although not a child prodigy by any means, Emily Remler proved herself to be a superb performer, composer, and instructor relatively early in life, producing seven studio albums before her untimely death at the age of 32. She once quipped of herself, "I may look like a nice Jewish girl from New Jersey, but inside I'm a 50-year-old, heavy-set black man with a big thumb, like Wes Montgomery." Her timing and improvisational skills were impeccable, and who knows what she would have accomplished had she not learned to control her demons (it is typically believed that her death was drug related). Check out her album East To Wes to hear Remler's contribution to our list of essential jazz guitar albums.
George Benson has entered territory that few jazz artists ever experience - major commercial success. Yet, despite Benson's great success (Breezin' won numerous Grammys in 1977), he has never compromised his craft as a jazz guitarist. Clearly bearing the inspiration of Wes Montgomery, Benson is his own musician, but it's primarily the jazz-blues that defines Benson's playing. Check out the previously mentioned Breezin' album to see Benson at his best as a master soloist, rhythm guitarist, and singer. Benson is on anyone's list of essential jazz guitar albums.
Although he was not terribly influential in his lifetime, over the years Grant Green has earned his rightful place amongst the giants of jazz guitar. With nearly 30 solo albums to his credit, Green's blues-based style continues to influence an entirely new generation of jazz musicians. Known for his linear lines and beautiful tone, Green died all too young at the age of 43, but left a powerful body of work. Check out Idle Moments and my personal favorite, Born to Be Blue. Truth be told, I think any of Green's albums could be on this list of essential jazz guitar albums.
Herb Ellis was admittedly highly influenced by Charlie Christian and also displays elements of swing (he was from Dallas, TX after all) and the blues. He was noted for his work with Oscar Peterson and was a mainstay on various TV variety shows during the 1960s and collaborated with several of his contemporaries, including Barney Kessel, Tal Farlow, Charlie Bird, and Joe Pass. He even inspired a tune by fellow guitarist Emily Remler entitled, "Blues for Herb." Check out Ellis's essential jazz guitar albums Nothing But The Blues and his collaboration with Joe Pass, Two for the Road.
Howard Roberts made a number of significant contributions to not only the world of jazz guitar, but to music education and studio recordings as well. One of the founders of the celebrated Musicians Institute (then Guitar Institute of Technology), Roberts was also a member of the infamous LA-based group of studio musicians known as "The Wrecking Crew." Check out the essential jazz guitar albums Color Him Funky and H.R. is a Dirty Guitar Player for some of his best work.
Though the late Jim Hall was definitely a "guitarist's guitarist" due to his flawless technique and command of the instrument, he approached the instrument more as a composer than a guitar player. And this approach to the instrument shows in his guitar solos, which sound more like mini-compositions than predictable pattern-based guitar solos. Hall was an avid student of music as well, studying composition, theory, bass, and classical guitar. He is widely considered one of the most influential jazz guitarists, along with Charlie Christian and Wes Montgomery.  It was tough picking only a couple of selections, but check out the essential jazz guitar albums Live and Trio: The Complete Jazz Guitar.
Jimmy Raney was the definitive cool jazz/bebop guitar player known for his work with Woody Herman, Artie Shaw, and Stan Getz. He was celebrated for his fluid soloing style and his highly intellectual approach to the instrument. Some of Raney's best work came later in his career, which is all the more impressive given that he was suffering from incurable hearing loss late in life. Check out his albums The Master and A as well as Volume 20 of the Jamey Aebersold Play-A-Long series devoted to Raney's work.
If anyone can claim to be the consummate jazz guitarist, it is the insanely great Joe Pass, who sheer virtuosity is nearly without parallel. Pass conquered his demons (a well-documented history of serious drug abuse) to emerge as a defining talent in the history of jazz. He combined a commanding knowledge of chord theory with technical prowess to establish himself as a first-tier bebop and blues player. Pretty much all of Pass's albums qualify as essential jazz guitar albums, but I recommend you listen to the aptly named Virtuoso and duet with Herb Ellis Two for the Road.
John Abercrombie – Timeless

While respecting the deep history of jazz and jazz guitar, John Abercrombie has never stayed firmly within a strict jazz idiom, drawing upon rock and world music influences to establish himself as a fusion guitarist par excellence. Never afraid to push the sonic boundaries of the instrument, Abercrombie has over 50 albums to his credit, and many of them could easily be labeled essential jazz guitar albums. So choosing one is a challenge. His first solo studio album Timeless is as good a place to start as any, featuring his work with drummer Jack DeJohnette and keyboardist Jan Hammer.
I confess that I'm a big fan of fusion guitar, so that's why I've put three different McLaughlin albums on this list of essential jazz guitar albums (though one is a Miles Davis album). Known for his blistering technique and broad range of musical influences, John McLaughlin helped define jazz-rock fusion during the 1970s, especially his work with the Mahavishnu Orchestra. He was a member of Miles Davis's group in the late 60s and early 70s and would later record with fellow fusion guitarist Al di Meola and flamenco artist Paco de Lucia, continuing to experiment musical throughout the 80s and 90s. Given McLaughlin's influence, I've recommended three albums that capture his significant influence - his debut solo album Extrapolation, the Mahavishnu Orchestra album The Inner Mounting Flame (a fusion standard), and the Miles Davis album Bitches Brew.
Yes, I'm a big John Scofield fan, so I decided to put a few of my favorites on the list of essential jazz guitar albums. Scofield describes his style as something between "post-bop, funk edged jazz, and R & B." That's as good a description as any, though Scofield is comfortable in numerous genres, from traditional bebop to rock and blues. He has played with everyone from Miles Davis to John Mayer and is considered one of the most influential jazz guitarists of the last 30 years with over 40 albums (as a leader) to his credit. Check out A Go Go, Überjam, the live album Enroute and his collaboration with Pat Metheny I Can See Your House from Here.
Johnny Smith is an intriguing name on this list. He was a highly respected jazz guitarist for most of his life, yet he purposely walked away from a busy and productive musical life in New York City to embrace a life of relative obscurity in Colorado Springs to focus on family, fishing, running a small music store, yet still having time to perform regularly in the local Denver music scene. His two most visible contributions to music were the tune "Wal, Don't Run" and the Gibson model that bore his name (but that he didn't particularly care for). He was highly regarded for his sense of taste and highly developed technique, particularly his right hand. Check out Moonlight in Vermont, widely considered his greatest album and a must-have on this list of essential jazz guitar albums.
If anyone is a true consummate jazz artist, it's Kenny Burrell. He has played and recorded with a virtual who's who of jazz greats, including Dizzy Gillespie, Oscar Peterson, Kenny Dorham, John Coltrane, Billie Holiday, and Jimmy Smith. Currently the director of Jazz Studies at UCLA, Burrell will forever be remembered as a top bebop and blues-based jazz guitarist. You have to check out Midnight Blue for some of his best work on this list of essential jazz guitar albums.
Larry Carlton is one of the most highly recorded guitarists in history and one of the most respected jazz-rock players around. An ace session in the 1970s and early 80s, he played on literally hundreds of albums, including some incredible work with Steely Dan. Originally influenced by such traditional jazz guitarists such as Joe Pass and Wes Montgomery, Carlton left the studio life behind him in the late 70s and embarked on a successful solo career. Check out his first solo album Larry Carlton and Last Nite in addition to his work with Steely Dan (the solo from "Kid Charlamagne" is a classic). He had some wonderful collaborations with Steve Lukather and Robben Ford as well.
Larry Coryell - Spaces

Although Larry Coryell could play traditional jazz at a very high level, it is as a fusion guitarist and composer where he made his mark. In fact, it's safe to say that Coryell was a fusion guitarist before fusion was even a genre of music. In other words, he helped define jazz-rock fusion as we know it. Check out the groundbreaking 1969 album Spaces, recorded with fellow guitarist John McLaughlin as well as keyboardist Chick Corea and drummer Billy Cobham.
One of the most highly recorded guitarists in history, Lee Ritenour was a studio ace in the 1970s, along with such studio luminaries as Tommy Tedesco and Larry Carlton. Nicknamed "Captain Fingers" because of his physical dexterity, Ritenour has purportedly played on around 3,000 different sessions and earned a Grammy Award in 1988 for his work with Dave Grusin. Check out the 1993 Wes Bound (a tribute to Wes Montgomery) and the 1977 Captain Fingers, Ritenour's contribution to 70s fusion.
An incredible talent who left us way too soon (murdered at the age of 43), Lenny Breau was highly regarded for his eclectic fingerstyle approach to jazz guitar. A versatile musician equally capable in country and classical as well as jazz, he was highly regarded for his use of harmonics and independent finger technique that allowed him to approach the guitar like a piano more than a traditional guitar. Check out his incredible facility on the album Five O'Clock Bells.
Mike Stern is a modern jazz-rock powerhouse, having held extended gigs with Blood, Sweat, and Tears, Billy Cobham, Miles Davis, and Michael Brecker. He also played extensively with Jaco Pastorius and has recently recorded and toured with Eric Johnson. He has an instantly recognizable tone and is equally comfortable playing bebop, fusion, or blues. Check out his essential jazz guitar albums Upside Downside and Standards (and Other Songs).
One of the true modern masters of jazz guitar, Pat Martino began playing guitar professionally at the age of 15 and has continued to evolve and grow as a guitarist and composer for over 55 years. This growth is all the more impressive considering his recovery from a severe brain disorder that for a time robbed him of his memory, including how to play the guitar. Recovery was considered unlikely, but recover he did and continued to compose and record, having over 30 albums to his credit to date. Check out the essential jazz guitar albums, the 1976 Exit and the 2002 release Live at Yoshi's.
In addition to having the best hair in jazz, Pat Metheny is easily one of the most celebrated artists in the genre, with 20 Grammy Awards to his name (in ten different categories, nonetheless). A true musical prodigy, Metheny taught briefly at the University of Miami (where he began as a student) and then at the Berklee College of Music. He played early on with Gary Burton but established himself as a solo artist early in his career. Throughout his amazing career he has collaborated with a wide range of artists, including Bill Frisell, Chick Corea, Jaco Pastorius, John Scofield, Michael Brecker, and Mick Goodrick. He is unafraid to experiment with new technology, frequently performing and recording with various guitar synthesizers. With over 45 albums to his credit, picking even a handful is difficult, but check out the essential jazz guitar albums Bright Size Life and The Pat Metheny Group for starters.

Though primarily a blues guitarist, Robben Ford is a premier jazz-rock fusion guitarist as well. A founding member of the group that would become The Yellowjackets, Ford has played with Miles Davis, Chick Corea, John Scofield, and Larry Carlton. In addition to his formidable skills in blues and jazz, Ford has amassed an impressive resume playing and touring with a wide array of artists including George Harrison and Joni Mitchell. It's also likely that he is the only artist on this list who has played on a KISS album (Creatures of the Night). For his non-heavy metal work, check out Blues Connotation and Talk to Your Daughter.
Though Stanley Jordan in many ways redefined what the guitar was capable of with his mind-blowing touch technique (a two-handed approach more akin to playing the piano than traditional picking technique), it's safe to say that he has never been a jazz purist. He's perhaps more well-known for his reinterpretation of pop tunes (such as the Beatles and Michael Jackson), though his skills as a jazz improviser are nonetheless impressive. Check out the 1985 release Magic Touch for Jordan's take on both pop and jazz standards.
Though he is perhaps not as well known as many of the artists on this list, Steve Khan has established himself as a first call jazz player over his nearly 50 year career. He has played with Steely Dan, the Becker Brothers, and Weather Report in addition to having a respected solo career. He is also a respected author, having written books on chord theory "Contemporary Chord Khancepts" and melodic constructions, "Pentatonic Khancepts." Possessing a distinctive tone, Khan has a number of excellent albums over the years, the 1997 live album The Suitcase captures him at his best, which is saying something.
Inspired by Charlie Christian and his work with Benny Goodman, the great Tal Farlow taught himself to play the guitar, even making his own instrument because he couldn't afford to buy one. He became known for his intricate bebop lines and incredible technique (as well as large hands that earned him the nickname "The Octopus"). While highly respected by his peers, he never achieved great commercial success, making a living primarily as a sign painter. For a taste of his incredible contributions to the world of jazz check out the essential jazz guitar albums Tal (1958) and The Swinging Guitar of Tal Farlow (1957).
Although Ted Greene was a masterful performer (numerous YouTube clips are available, including some incredible performances at Musician's Institute), he is rightfully remembered as a music educator, but an educator of the absolute highest caliber. His book Chord Chemistry is absolute required reading material for any aspiring jazz guitarist. Fortunately, Greene did record, with the aptly named 1977 release Solo Guitar, which was Greene's preferred performance format.
If there's any guitar player past or present who is the living embodiment of jazz guitar, it was the great Wes Montgomery. He influenced everyone from Eric Johnson to Pat Metheny and his recordings are required listening to anyone who aspires to play jazz guitar. There's no such thing as a bad Wes Montgomery album, but the two that garner the most mentions are the essential jazz guitar albums Smokin' at the Half Note and The Incredible Jazz Guitar of Wes Montgomery.
Essential Jazz Guitar Albums - Add to the List!
Are there essential jazz guitar albums that you think I left off the list? Add your contributions using the form below!
Add Your Comments Here!
I'd love for you to be a contributor to SoMuchGuitar.com!

Just fill out the information below to add to this page. I'll be in touch about your submission soon!
---
So Much Guitar

›

Essential Listening

› Essential Jazz Guitar Albums