Essential Country Guitar Albums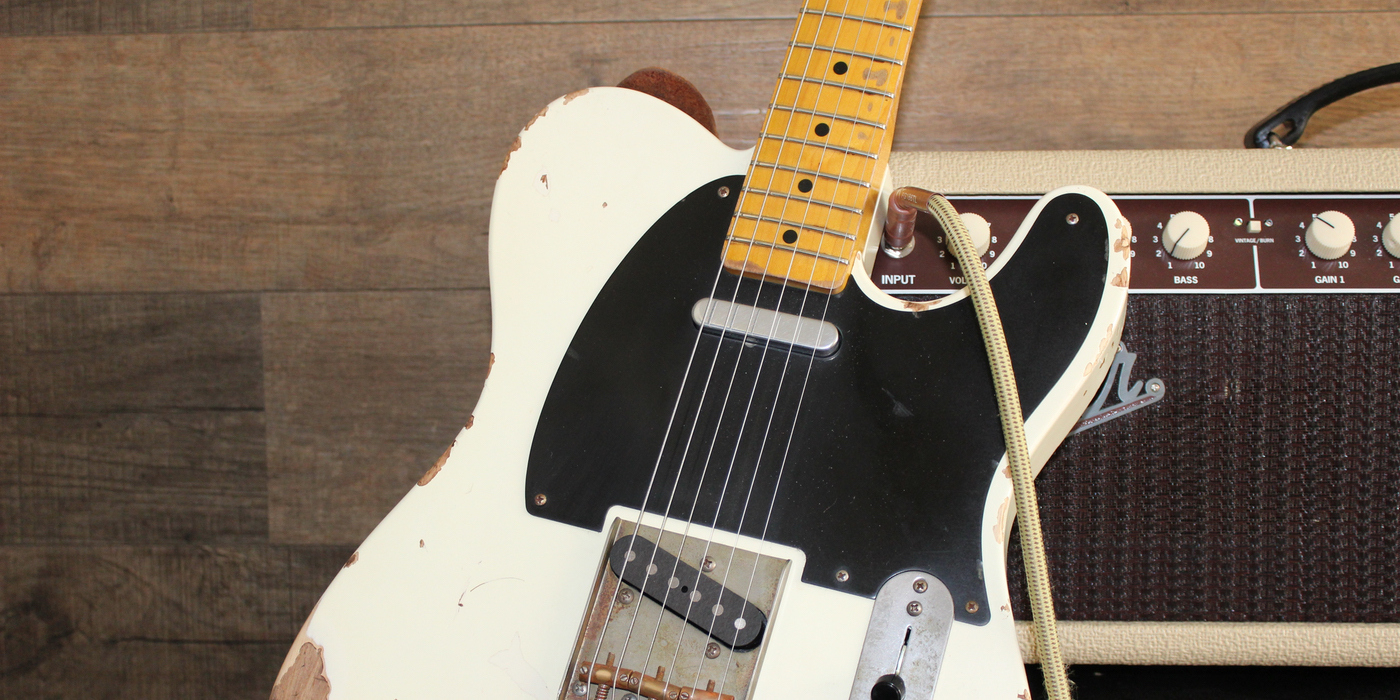 This list of essential country guitar albums contains selections from younger players such as Johnny Hiland as well as classic country artists such as Doc Watson. But regardless of whether these players represent "new" country or "old" country, they all have made indisputable contributions to the world of country guitar.
Feel free to let me know if you'd like to add (or even subtract) an album from this list in the comments box at the bottom of the page. FYI, if you click on an album title, you can buy it from Amazon.com using my affiliate link. Thanks for visiting and enjoy reading and discussing my list of essential country guitar albums!
You wouldn't necessarily think that a young man born in Herefordshire, England would grow up to be one of the most respected country guitarists of all time, but that's exactly what happened with Albert Lee, known as the fiery guitarist for Emmylou Harris's "Hot Band," where he replaced another country guitar great, James Burton. Lee has played with many of his own guitar heroes, including Eric Clapton. Recommended Albert Lee recordings include his first album with Emmylou Harris, "Luxury Liner," as well as his albums Speechless, Gagged But Not Bound, and the live album, Albert Lee Live at the Iridium. Without question, Albert Lee belongs on anyone's list of essential country guitar albums.
Brad Paisley - Play

West Virginia native Brad Paisley is a triple threat in the country music world - he's a talented singer, gifted songwriter, and virtuoso guitarist. His commercial success is astounding, but it is only succeeded by his talents as a country guitar player, particularly his deft use of chromaticism coupled with mastery of various picking styles (alternate, hybrid, and legato) make him a serious Tele-master. There's no such thing as a bad Brad Paisley album from a guitarist's perspective, but the 2008 album Play is highly recommended, with appearances from a number of great country guitarists, including Albert Lee, Brent Mason, Vince Gill, Redd Volkaert, and James Burton. Any of Paisely's albums would be worth of inclusion, but it's Play that earns its way onto our list of essential country guitar albums.
Brent Mason is one of the mostly widely recorded guitarist of all time as well as one of the most respected due to his versatility and virtuosity. In fact, it's safe to say that he's played on a number of records that could easily be part of an essential country guitar albums list.  He has been the Academy of Country Music Guitarist of the Year and MusicRow Session Guitarist of the Year numerous times. In 2009 he won a Grammy for his contributions to the Brad Paisley album Play with the tune "Cluster Pluck." He has played on literally hundreds of recordings, though he is perhaps best known for his work with Alan Jackson. It's nearly impossible to recommend a single recording, but a good place to start might be Alan Jackson's A Lot About Livin' (And a Little 'bout Love) and Mason's own release Hot Wired.
If any guitarist can be said to have helped define the sound, style, and technique of country guitar, it's Chet Atkins (born Chester Burton Atkins), rightfully known as "Mr. Guitar" due to his mastery of the instrument. Equally impressive were his prowess as not only a guitarist but as a composer and producer. Hailing from a highly musical family, he was influenced by Jimmie Rodgers and particularly by Merle Travis, who inspired Atkins to develop his own thumbpick/fingerstyle technique. There is no shortage of compilations of Atkins' music, but I recommend The Essential Chet Atkins, which contains a wide range of selections from Atkins' varied career and belongs on our list of essential country guitar albums.
The great Danny Gatton, often characterized as "The World's Greatest Unknown Guitar Player," was equally adept at blues, rockabilly, jazz, and, of course, country. In fact, his dizzying technique and virtuosity led to his style being described as "redneck jazz" and a recognized "Telecaster Master." Though great commercial success would elude Gatton during his relatively brief career, he garnered respect from everyone familiar with his music. The 1991 release 88 Elmira St. captures his compositional as well as technical brilliance. 
Born Arthel Lane Watson, "Doc" Watson would redefine not only his stage name but the role of the guitar in bluegrass and folk music. Early in his career, Watson played both acoustic and electric guitar, but would become renowned for his technique on the former, particularly his fast flatpicking style. Like many early country guitarists, Watson elevated the acoustic guitar to a role primarily held previously by fiddle players. His technique was at once flashy and precise, and he influenced an entire generation of bluegrass and country guitarists. Though there are no shortages of collections of Watson's work, I recommend the 23-track 1999 Vanguard release The Best Of Doc Watson 1964-1968 and include it on my list of essential country guitar albums.
Few players on this list have the resume that rivals the great Glenn Campbell.  He's primarily known for his work as a solo performer with such hits as "Witchita Lineman" and of course "Rhinestone Cowboy," but Campbell's versatility goes far beyond his capacity as a solo hit machine. For years, Campbell was part of the notrious L.A. "Wrecking Crew" and as such was a first call session guitarist, playing on a wide range of recordings throughout the 1960s. He instrumental and vocal prowess even earned him a temporary place as one of the "Beach Boys" when Brian Wilson stopped touring with the group in the mid 1960s, with Campbell playing bass and singing Wilson's famous falsetto vocal lines. Eventually, Campbell embarked on a successful solo career. In recent years, Campbell has suffered from Alzheimer's disease and has retired from performing, though even in the early stages of his illness he could still play at an unbelievably high level. For those interested in Campbell's work, I recommend the 48 track The Glen Campbell Collection: 1962-1989.
Although Grady Martin might not have the immediate name recognition that many others on this list have, if you've ever listened to "classic" country music from the 1950s and 1960s, it's not possible that you haven't heard Martin's work. For years, he was an A-list Nashville session guitarist and appeared on albums by Roy Orbison, Loretta Lynn, Conway Twitty, Willie Nelson, Marty Robbins, and Brenda Lee (including the instantly recognizable guitar parts on "Rockin' Around the Christmas Tree"). While you might very well already own recordings with Martin's work, I would also recommend the 32 track Roughneck Blues 1949 - 1956 album.
Although his career was cut far short due to a tragic automobile accident in 1961, during his relatively brief time as a solo artist and Nashville session artist, Hank Garland made a name for himself not only as a first tier country guitarist but as a promising jazz artist as well. He played with a virtual who's who of top country and early rock artists including Roy Orbison, Johnny Cash, Elvis Presley, and Patsy Cline. He partnered with the Gibson guitar company and fellow guitarist to produce the partially self-named Gibson Byrdland guitar. Although the car accident robbed Garland of his skills, he was still celebrated as one of the finest guitar players ever to come out of Nashville and had already done enough incredible work to earn his place onto my list of essential country guitar albums. In addition to his wide range of solo work, I highly recommend the 31 track album, Move! The Guitar Artistry of Hank Garland.
Born in Dubberly, Louisiana in 1939, James Burton was already a professional guitarist by his mid teens. Burton would help popularize the Dale Hawkins classic "Susie Q" with his distinctive guitar work. In addition to his wide array of studio work Burton is perhaps best known for his work as a sideman with Ricky Nelson, Elvis Presley, John Denver, and as a member of Emmylou Harris's famous "Hot Band." While it's challenging to pick a single James Burton recording, I suggest you check out the 28 track James Burton - The Early Years 1956-1969.
Unlike many of the players on this recommended listening list, Jerry Reed wasn't known as an incredibly versatile studio player or versed in a variety of styles like a Danny Gatton or Hank Garland. But what he did, he did amazingly well. He was a first class country guitar picker, known for his lightning fast runs and "claw" picking technique. Jerry Reed established himself not only a major country guitar talent, but as a singer, songwriter, and actor, so it was no surprise that he preferred to be referred to as an "entertainer" rather than "just" a musician. I recommend that you add the 20 track CD The Essential Jerry Reed to your collection, which contains most tunes that helped put Reed on the map, including "Guitar Man," "Amos Moses, "and "The Claw." This incredible collection of tunes is a must-have on my list of essential country guitar albums.
Easily recognizable due to his signature Mosrite double-neck guitar, Joe Maphis was rightly dubbed "King of the Strings" due to not only his incredibly technical facility but also because of his ability to master seemingly any stringed instrument. He was primarily known for his work with his wife, singer and guitarist Rose Lee, and protege, Larry Collins. The 19 track Fire on the Strings features some of his best solo work as well as duets with Larry Collins.
One of the most versatile guitarists on this list, Johnny Hiland could easily be listed on the essential rock listening as well, but it's primarily the world of country music where he has made his mark and has earned him a place in my essential country guitar albums. Although born legally blind, Johnny has never let that setback hold him back in his career as a studio musician or live performer. Equally adept at blues, rock, and country, Johnny incorporates fast chicken pickin', legato technique, and impressive alternate picking to form an eclectic, inspiring style that is decidedly unique. Currently signed to Steve Vai's Favored Nations label, Hiland is easily one of the well rounded players around today. Check out his album All Fired Up for 12 tracks of guitar playing mastery! 
Marty Stuart is one of the most accomplished musicians on this list, as not only a world-class country guitarist, but as a songwriter, singer, and multi-instrumentalist. Equally adept at mandolin as well as guitar, Marty is a master of the Parsons-White "B" Bender mechanism, seamlessly integrating into his lead lines. While Stuart can hold his own with anyone, the song is always the center. While there's no such thing as a bad Marty Stuart album, I recommend both Hillbilly Rock and greatest hits compilation The Best of Marty Stuart.
You know that you've made it as a "legend" or defining figure in your genre when there's a specific style or technique that bears your name, so it was no surprise that Merle Travis made it onto my list of essential country guitar albums. In the case of Travis, it's the style of playing known as "Travis Picking," which involves playing steady bass notes with the thumb and using the fingers to play syncopated melodies. Travis's influence as a country guitarist is nearly without peer, having influenced everyone from Chet Atkins to Tommy Emmanuel to entire generations of country fingerpickers. In addition to his wide influence as a guitarist, Travis was also a singer and songwriter who appeared in many movies as well, a versatile all-around entertainer. Check out the 20 track album The Merle Travis Guitar.
Primarily known to many for his work with Dwight Yoakam, Pete Anderson has established himself throughout his career as a versatile player with plenty of country chops, though he's equally capable in rockabilly, rock, and blues as well as being a talented producer. It doesn't get any better than his work on Dwight Yoakam's debut album Guitars, Cadillacs, Etc., Etc. as well as his own debut album Working Class.
With a name like "Redd Volkaert," you know he's got to be destined to be a first rate country guitarist. If anyone deserves the title of "Tele-master" it's Redd, currently based out of Austin, TX. One of the many great guitarists to have played with Merle Haggard over the years, Redd's talents were formally recognized in 2009 when he was one of several players who won a grammy for the tune "Cluster Pluck." If there's any Redd Volkaert recording to have, it's his 1998 release Telewacker, an amazing collection of tunes that belongs on our list of essential country guitar albums.
It's safe to say that most people familiar with Roy Clark know him from the popular country-music based variety show "Hee-Haw" (which ran for over 20 years) that he co-hosted with Buck Owens. Given Clark's natural gifts as an entertainer, it was easy to overlook his virtuosic talents on not only the guitar but mandolin and banjo as well. But make no mistake about it - Roy Clark is a tier one talent on the guitar. Check out the 1963 release The Lightning Fingers of Roy Clark if you don't believe me. Though over 50 years old, the incredible technique and facility on this album shows that Clark deserves a spot on this list of essential country guitar albums.
One of the few pure acoustic recommendations on this list, Tony Rice is revered as one of the finest bluegrass guitarists around, though he is also a capable acoustic jazz player as well. Though a fine vocalist, due to illness Rice has focused solely on his guitar playing since the mid 1990s. He is usually seen sporting a 1935 Martin D-28 that was formally owned by his mentor Clarence White. There are several incredible Tony Rice recordings, though his 1973 solo album Guitar is highly recommended and has earned a rightful place in this list of essential country guitar albums.
Given his poster boy good looks and smooth singing voice it's easy to forget that Vince Gill is an absolute monster country guitarist, with any of his recordings arguably earning a spot on a list of essential country guitar albums. He's definitely paid his dues, playing everything from bluegrass to country rock (with Pure Prairie League)  and working as a sideman and studio musician before becoming a successful solo artist. If it's a Vince Gill album, you can be sure that there's fine guitar playing to be found, but one of my personal favorites is the 1994 album When Love Finds You.
Essential Country Guitar Albums - Your Thoughts?
Are there essential country guitar albums that you think should be on the above list? Fill out the form below and let us all know what albums you'd like to see included.

Add Your Comments Here!
I'd love for you to be a contributor to SoMuchGuitar.com!

Just fill out the information below to add to this page. I'll be in touch about your submission soon!
---
So Much Guitar

›

Essential Listening

› Essential Country Guitar Albums