Classical Guitar History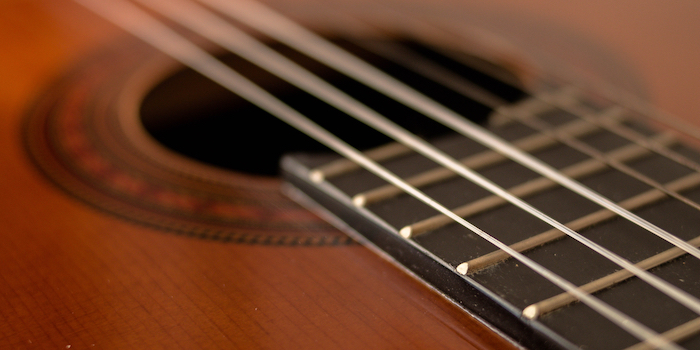 This brief discussion of classical guitar history touches on the rich background of the instrument itself as well as recent developments in the classical guitar as well as significant performers and composers.

Predecessors of the Contemporary Classical Guitar
Part of the difficulty in tracing the history of the classical guitar involves the term itself. The word "guitar" can be traced to the Latin word *cithara*, itself a derivative of the Greek word *kithara*.

However, our contemporary instrument is thought instead to have roots in the European lute and oud as well as the Spanish instrument known as a vihuela, which had six sets (or "courses") of strings. The vihuela was a strong influence on early five-course guitars both with respect to its tuning (4ths and 3rds) as well as basic construction.

The guitar's connection to Spain (a relationship strong to this day, both with respect to luthiers and performers) is seen in the five-course guitars that had a tuning (A-D-G-B-E), and we can thank Italian luthiers for adding the sixth course that eventually evolved into a six-string instrument by the early 19th century.

The Contemporary Classical Guitar
The design of the contemporary classical guitar is generally attributed to Antonio de Torres Jurado, who is generally considered the "Stradivari" of the guitar-making world. Although he died in poverty after a life marked by personal tragedy, Torres (1817 - 1892) set the standard for classical and acoustic guitars that are still seen to this very day.

He increased the size of the guitar, making it a viable concert instrument. He also confirmed that it was the top of the guitar that contributes primarily to the guitar's sound, even going so far as to make a guitar with papier mâché sides to demonstrate that a good solid top would still provide sufficient projection. His system of fan-bracing not only provided sufficient strength for the soundboard but also allowed lighter tops to be used, allowing for greater resonance. Torres's contributions to classical guitar history cannot be overstated.

While he did not necessarily invent many of the techniques he used, his choice to combine them into his guitar design has stood the test of time to this very day.

Composers
There are countless composers for the classical guitar, far too many to list here unfortunately. Still, two names are worth mentioning, given their enduring popularity: Fernando Sor and Heitor Villa-Lobos. Sor was not only a celebrated composer, but he was well-known for his virutouso talents on the guitar. Though not regarded as a performing virtuouso, Villa-Lobos wrote many highly regarded works for the guitar, and performing his 12 Etudes is often considered a rite of passage for many classical guitarists.

Significant Performers in Classical Guitar History
Without question, the most influential figure in the world of classical guitar is the great Andrés Segovia, a true master who was surprisingly self-taught at the guitar after being unsuccessfully trained at the violin. It is hard to find a professional classical guitarist today who is not either a student of Segovia or a student of a student.

Other names worth remembering include: Julian Bream, a formally trained musician (cello and piano) but another self-taught guitarist like Segovia who is renowned for his wide repertoire and virtuosic command of the instrument; John Williams, a graduate of the Royal College of Music in London and former private student of Segovia has achieved acclaim for his ensemble work, his appreciation and integration of contemporary music, and his brilliant technique; Eliot Fisk, another Segovia pupil, is a noted transcriptionist who received praise from Segovia for his well-developed musicality and is well-respected for his contributions to musical education.

Add Your Comments Here!
I'd love for you to be a contributor to SoMuchGuitar.com!

Just fill out the information below to add to this page. I'll be in touch about your submission soon!
---
So Much Guitar

›

Classical Guitar

› Classical Guitar History